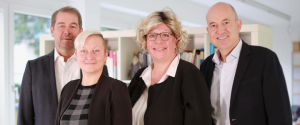 About
BTI Business Training International GmbH
BTI – established in 1997 in Stuttgart, Germany, has been a trusted partner in the professional teaching community.
Building on the "German Genes" of quality, creativity and reliability, we built a portfolio of tools and courses for the learning professional, for academic teaching, corporate training or professional learning! We focus on experimental learning based on simulation concepts.
With more than 20 experience in serving the professional teaching community, we aim to create better learning experiences for the student and assist the professional teacher with state-of-the-art tools and concepts. Ready to use! Guaranteed to do the job!
Financial literacy, Business acumen, CEO thinking, Entrepreneurial decision-making, Teamwork!
We make it easy to gain critical knowledge for students and employees. Be it a basic academic education in finance and business administration, preparing for the next step on the career ladder in a corporate management environment or achieve a higher level of employability for the young professional, we help to make life more successful!
Please fill our form and we will get back to you.
Michael Gebel and Thomas Walter
Michael Gebel and Thomas Walter started BTI in 1997 after 10 years of consulting work in the Stuttgart industrial area.
They both have a master's degree in Finance and Business Administration from Tuebingen University, one of the oldest academic schools in the world.
Working in change projects, their objective was to create better results, higher efficiency and smarter processes within organizations. But the problem they soon discovered was: "How can you explain the numbers in one day?"
Once employees understand, why they have to change, the biggest stone is out of the way and people start moving. And everyone loves to play, so the "Serious Games Concept" was the next step.
They developed the concept of simulations to make it easy for non-finance employees to understand how a business is run, how the result is calculated and how as an employee you can improve the result of a business, no matter which job you have in an organization.
Logically they introduced the concept to the academic world.
For the last 10 years, Stephie has been managing BTIs office, from customers' requests to invoicing. She is in command of all the vital functions. Starting as an event manager for SME events she earned a bachelor's degree in Business Administration.
She will make everything happen, managing trainers, sending out access codes, answering your questions, and if in need will run the show in a training!
Birgit is responsible for our marketing activities. She assists new and existing customers with all informtion needed. If you need a proposal, a presentation or a registration for a demo or webinar, Birgit will be happy to assist you.
For More Information please fill our form and we will get back to you.